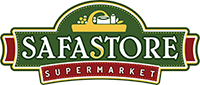 Safastore supermarket was commissioned to Baku residents in 2015. Covering an area of 2500 square meters and offering a wide range of high-quality services, Safastore with its friendly personnel has turned into the favourite brand on retail market, serving more than 5000 people in 7/24 mode. Safastore is the choice of people, who value high quality, a wide assortment of goods and low prices. Here you can get the foodstuffs and non-foods produced by both local and foreign enterprises at low prices. With respect to customers' interests, Safastore offers you exclusive goods produced in Europe, Turkey and Russia.
Safastore, offering high quality service and low prices in line with discount programs is located in the 9 th micro-district of Binagadi district, Baku city. Welcome to Safastore!
SAFASTORE SUPERMARKET means:
Proximity to your house
Low prices
Wide assortment
High quality
Ecologically safe production
Friendly personnel.